Cases
S3 Gallop
Please use earphones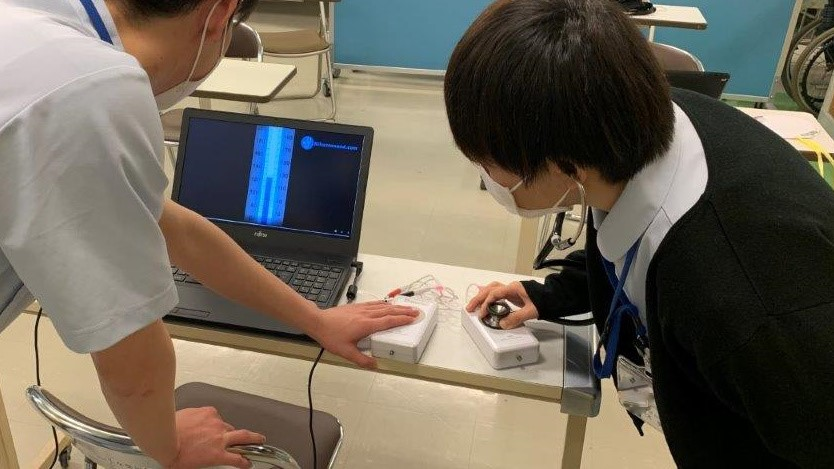 Blood pressure measurement exercise: Two students practice auscultation and palpation at the same time
Koyo High School / Nursing Course
A pair of students are doing blood pressure measurement exercises. This is an example of using a blood pressure monitor to read each other's answers.
The answers were completely different from each other, and they said, "Teacher, we want to do it again!" This is an example of a very lively exercise.
The academic advisor also evaluated, "Using iPax allows students to participate in the exercises enthusiastically. It is a wonderful simulator with a high educational effect." December 2021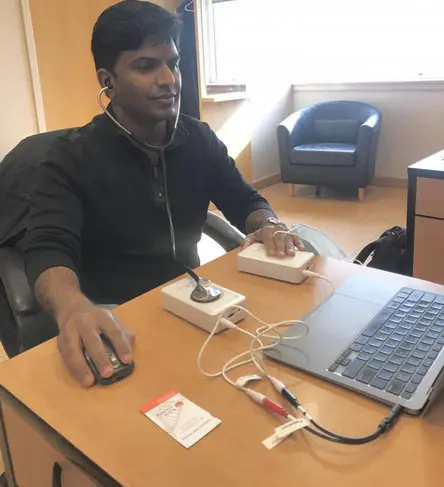 Trial by a US cardiologist
<Telemedica's US deployment update>
Dr. Rakesh Shah, a cardiologist at the St. Mary Medical Center in the suburbs of Philadelphia, Pennsylvania, tried auditioning Telemedica's auscultation e-learning systems iPAX and Kikuzo.Dr. Shah replyed "I think this system can bring benefits to medical students and medical professionals as a tool for practicing auscultation, and has great potential to help improve auscultation diagnostic skills in the United States." We were also impressed that he nodded a lot during the audition, saying "the sound is very natural".We will have Dr. Shah and his hospital cardiologist evaluate it in detail and use the results as a reference for our future expansion into the United States.
Quote:Kievit Scientific LLC February 2022
Inquiry Form
~ Contact us ~